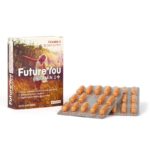 The Tanning Shop are delighted to announce we are stocking Future You, Vitamin D supplements.
Vitamin D has an incredibly important job within the body, it is currently believed that 1 in 8 people living in Ireland are deficient in this essential vitamin.
Maintaining suitable levels of Vitamin D within the body will ensure optimum running of functions, such as:
Helps improve the immune system
Supports cardiovascular health
Promotes healthy bones and teeth
Helps protects against many viruses
Get your Vitamin D supplements from any Tanning Shops in Ireland for just €10 per pack. Each pack contains enough supplements for a 28-day supply.