Welcome to our Online Booking Facility.
Never has it been easier to book your favourite store, bed and even your preferred room! Convenient, quick and easy, just "Tap Tap Tan"!
Saturday Appointment times may not reflect the store opening times – Please check the store opening times using our store finder.
Please note we don't take bookings online on Sundays. You can still book by phone with your local store.

Back to My Bookings
Thank you for booking with The Tanning Shop.
Stay in the know with The Tanning Shop App!
All your tanning essentials in one place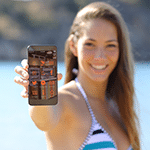 I'm new to The Tanning Shop
Never tanned with us before? Just visit your local store to register.
Forgotten Your Password or Customer Number?
Just click the Forgot Password button and enter your Customer Number. We will email you a link to reset you password. Forgotten your Customer Number? Don't worry you can Contact Us and we will get back to you as quickly as possible.
Booking an appointment
To book an appointment couldn't be easier. Once you've logged in simply select your store, date, time and then just choose the equipment and time that suits you. You will then see a confirmation page where you can agree to the appointment, it's as simple as Tap, Tap, Tan. We will also email you the details of your appointment, please note that you can only book 1 session per day and we recommend that you don't tan twice within a 24 hour period.